Equity
Equity is not a path forward. It is the path forward for IPS.
We live in a society with tremendous and ever-widening gaps in health, wealth and opportunity. Where a person's zip code largely determines the trajectory of his or her life, including future opportunities, income, and longevity.
At IPS, we work in diverse communities with unique conditions – from safety in streets and parks, to transportation options, to job availability – that determine residents' health, safety, and opportunity.
These realities have prompted a shift in our approach. We view our work through a new lens – a lens of equity. We believe that health disparities are largely driven by long-standing, systemic inequalities, including deeply embedded conditions like prolonged disinvestment in communities, educational failures, community trauma, and structural racism. This is relevant to everything we do at IPS, from preventing underage drinking to promoting food security to advocating for equitable planning and land use policies.
Equity tops IPS's list of Core Values for this reason. We are committed to partnering with communities impacted by inequities and health disparities. We work to transform systems so that all people, regardless of race, culture, economic circumstances, sexual orientation, gender identity, or educational attainment, can live their best lives.
ACT for Equity
Equity is achieved when everyone has the opportunity to live to his or her full potential.
IPS's ACT Model provides a framework for transforming communities by advancing equity. It is a dynamic, integrated, non-linear approach that is customizable to meet the unique needs of each community.
It is designed to achieve safe, secure, vibrant and healthy communities where everyone can thrive.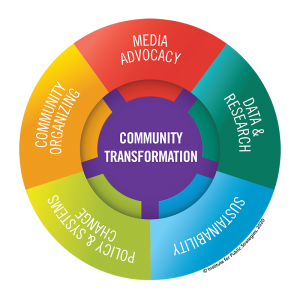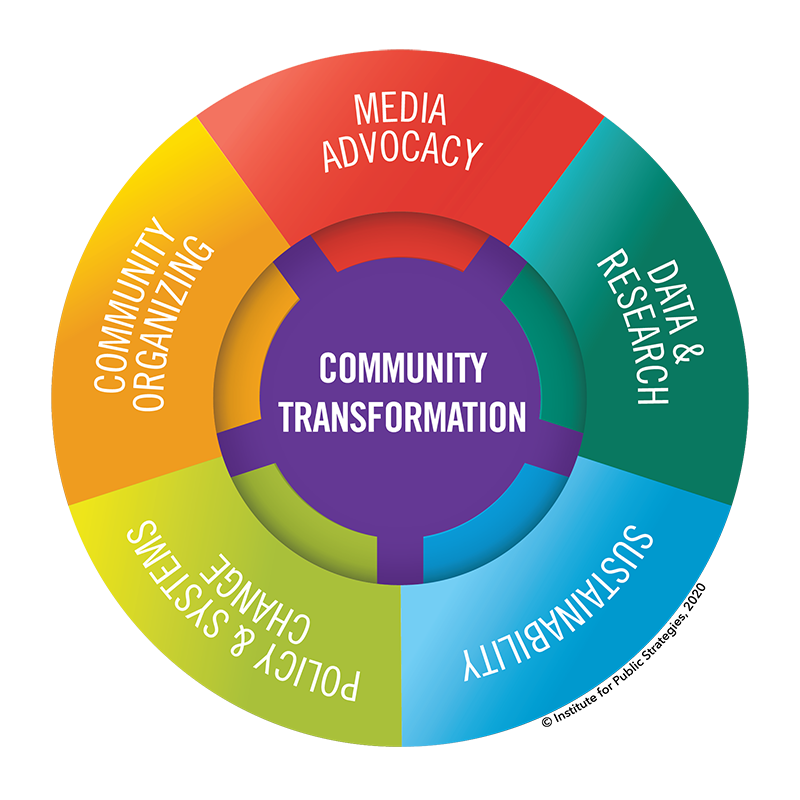 We develop a vision for change. (Community Transformation)
We use earned media, social media and other forms of communication technologies to amplify voices, elevate issues on the public agenda, promote collective responsibility, and prompt change. (Media Advocacy)
We assess inequities, their root causes, and their linkage to health disparities; we use these to identify innovative solutions informed by evidence. (Research & Data)
We cultivate a sense of community cohesion, build capacity, and foster collective efficacy among our partners. (Sustainability)
We develop and advocate for policy and systems change that breaks down structural barriers to equity. (Policy & Systems Change)
We engage the grassroots populations most affected by inequities. (Community Organizing)
THE ACT MODEL IS APPLIED IN PARTNERSHIP WITH COMMUNITIES